Issues
Services
Brand Strategy
UX Research
Visual Identity
Website Design & Development
The Association of Independents in Radio (AIR) is a growing network of audio industry professionals. Recently, there has been a seismic shift in the way radio and multimedia storytelling is produced and consumed. But AIR's visual identity and website reflected old ways of thinking, and weren't keeping pace with the rapidly evolving field.
Together, Teal and AIR transformed the way AIR expresses itself. We modernized AIR's visual identity to better reflect the vibrancy of AIR's membership, and we created a website that better meets the needs of this diverse community of professionals.
Research & Discovery
Focusing on AIR's community of members
To create a cohesive strategy for the new brand and website, Teal started with research. We began with in-depth learning sessions with internal stakeholders, audience interviews, analytics reviews, and online surveys. We topped our research off with an interactive workshop to generate ideas for the new direction of the AIR brand and gain alignment around our path forward.
Our research and discovery set the tone for the rest of the project, and established that the AIR brand and website needed to feel welcoming, supportive, and useful for the diverse audio professionals who make up the AIR community.
A Community-Focused Visual Brand
Enthusiastic builders of space
AIR has a deep history of offering resources and connections to support and grow the AIR community. The new visual identity we built for AIR needed to honor this history and appeal to loyal members, while still feeling fresh and nimble enough to attract new members in a constantly shifting environment. AIR's role is to serve as a connector, facilitator, and "enthusiastic builder of space," enabling audio professionals at all levels of experience to learn, network, and thrive. Together, we created a visual identity that embraces this role, and reflects AIR's core values of access, expertise, connection, and forward-thinking.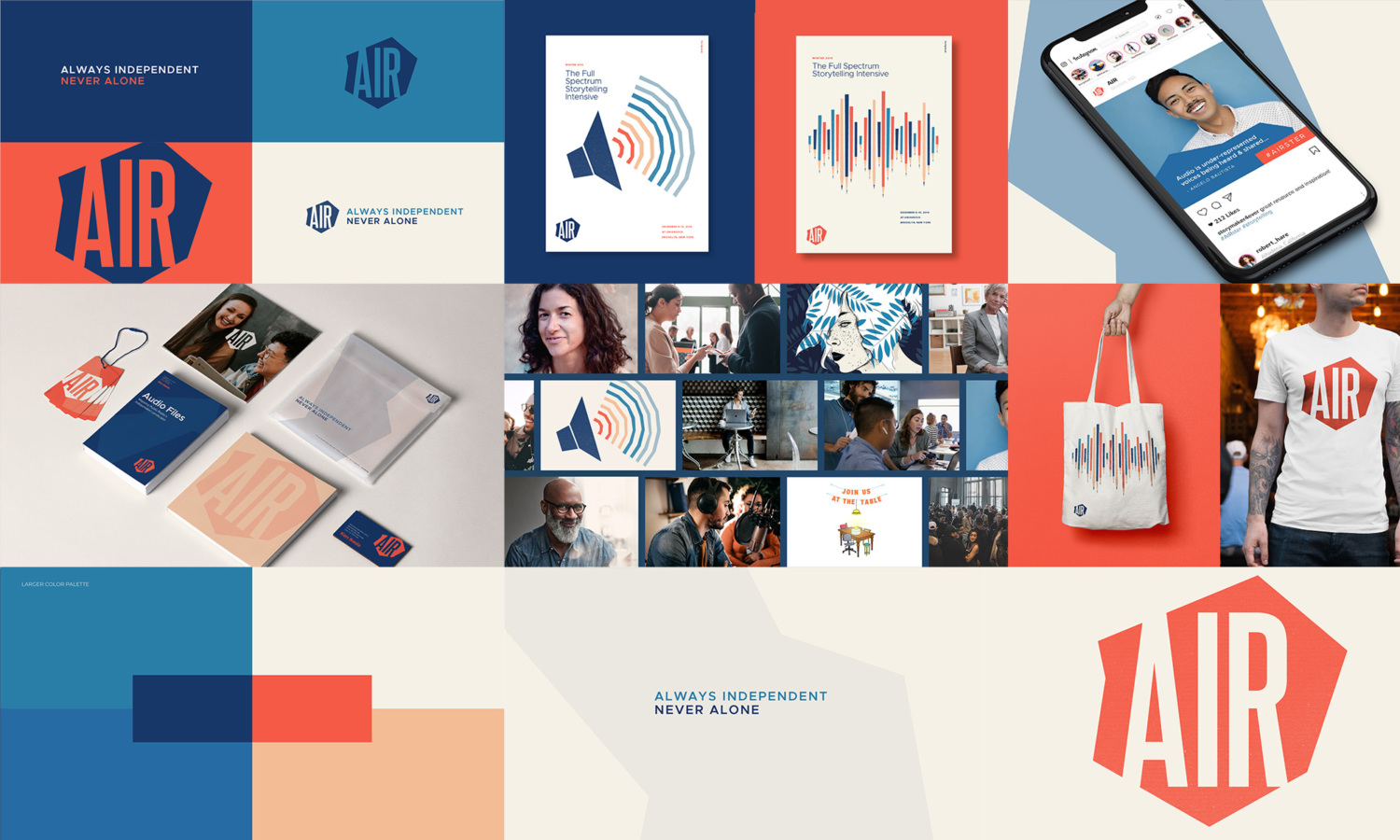 Because the audio field is changing so rapidly, different people have very different types of relationships with AIR. This meant that the AIR logo couldn't make people feel "boxed in" to one approach or way of operating. The abstract logo shape illustrates this concept of a space that is open and ready to become whatever a specific member needs in a given moment.

Bringing the experience online
Showcasing a vibrant community
The website that Teal designed and developed for AIR builds on the theme of offering a space the the user can customize, based on her own individual needs. We created a structure that organizes content by "type" of user they are: Job Seekers, Community Seekers, Talent Seekers, Resource Seekers, making it quick and easy for people to find the information and make the types of connections that are the right fit for them.
Together Teal and AIR created a new website that:
Clearly communicates the value, benefits, and structure of AIR membership
Offers a streamlined and intuitive user experience, making relevant information easy to find and act on
Provides a robust source for independent audio professional to find jobs
Showcases the diversity and talent of the AIR community
Serves as an online community for audio professionals to connect with others, based on location and on shared interest
Houses a large library of resources for audio professionals to learn new skills and further their careers
Teal Media is a woman-owned full-service creative agency based in Washington, DC. We offer UX research, web design & development, brand strategy, and creative support to mission-driven and nonprofit partners. We believe purposeful design can transform organizations, inspire action, and enable progress.